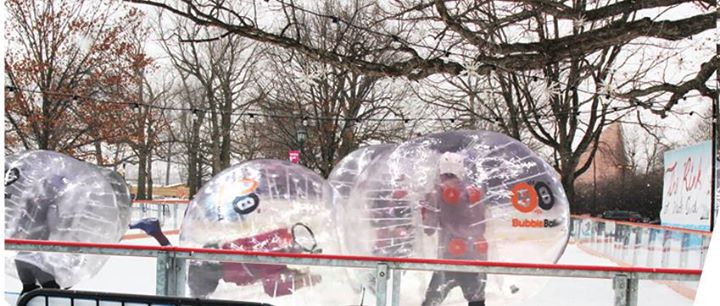 Bubble Soccer on Ice
Our friends at University Circle Inc. have allowed us to take over the Wade Oval Ice Rink on Thursdays from 6pm-8pm from Feb 8th until March 1st. Join us for bubble soccer on ice along with many other classic recess games (with a twist).
What is Bubble Soccer aka Zorb Football you ask? Imagine playing soccer inside of a protective sphere, 5 feet in diameter, filled with air, but cored out in the center like an apple…or just watch the video from an earlier event:
Unlike traditional bubble soccer, it doesn't matter how big or fast you are. Last year, we found out that ice is ultimate equalizer. I was knocked down by a girl half my size several times last time I played. Because of the Zorbs, no one was hurt. We supply all of the equipment you need to play. Wear comfortable shoes and bring knee pads if you have them (to keep your knees warm when you're getting up in the Zorb). No ice skates please! Normally, this experience would cost you $30 or more, but it is a FREE friendly family event for people of all ages. Suggested donation is $10 per person, but not required. All donations benefit the Re-Inspire Foundation, a local 501(c)(3) non profit. Hope to see you there. Please share this with your networks. Also feel free to bring a friend to watch or play. Scared of a little cold weather?
We'll have outdoor heaters and tents setup to keep you warm. Not sold on the soccer? Well, come to meet new people and laugh during your court side view of hilarious collisions.
See you Thursday! Dustin Colquitt Authentic Jersey