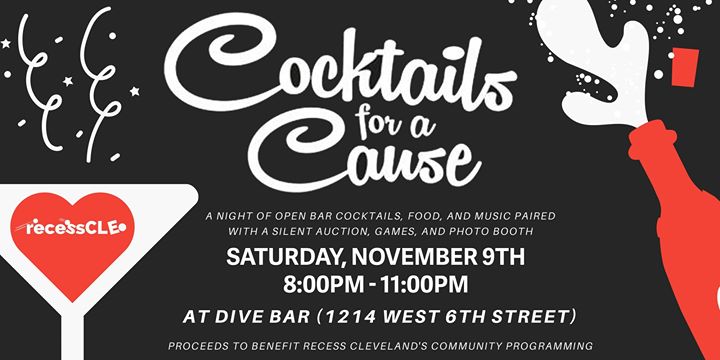 Cocktails for a Cause
Cocktails for a Cause Fundraiser benefiting Recess Cleveland Join us for Cocktails for a Cause at Dive Bar Saturday, November 9th 8:00 pm – 11:00 pm. Each ticket includes food buffet, draft beer, well drinks, photo booth and raffle entry.
50% of ticket sales benefit Recess Cleveland's efforts to throw 10 FREE recess events at local schools during this upcoming school year.
Karaoke Afterparty is at Tina's Nite Club (5400 Herman Ave) in Detroit Shoreway.
Your donation to Recess Cleveland directly supports our mission of bringing families and community members together promoting physical activity and the development of positive emotional and social skills in areas of the city that lack positive recreational environments. We'll have contests, team games and individual activities for people of all ages and abilities! With your help we would like to provide a minimun 10 free recess events that will impact over 1,000 children and adults. Donated funds help us offer healthy snacks and refreshments at our events as well as supervision for safe, inclusive places to play.