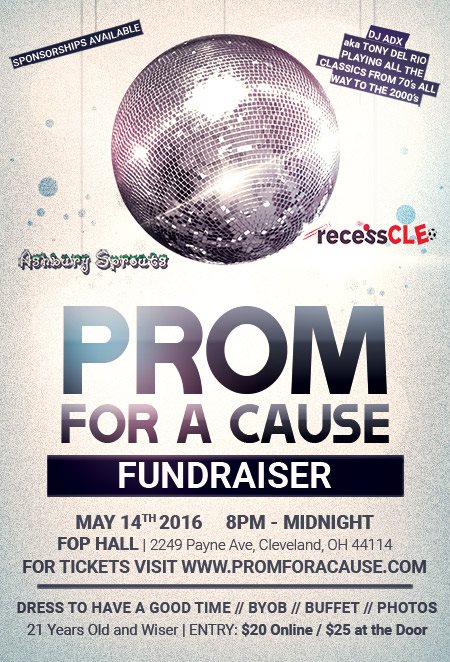 The Prom for a Cause Fundraiser (supporting Ashbury Sprouts and Recess Cleveland)
It's prom time again, and we're all waaay too old to participate…or are we?!?
Join us on Saturday, May 14th, from 8pm-midnight to help us raise money for two great causes, Ashbury Sprouts and Recess Cleveland by paying homage to our favorite high school dance songs. Grab your tickets here: http://www.promforacause.com
Tickets are only $20 and includes:
DJ ADX (aka Tony Del Rio spinning all the "Prom" classics from the 70s all the way to the 2000s)
A Buffet Dinner
FREE Photo Booth Access
Event Photographer
Contests, Prizes, and Giveaways
Free Parking
VIP Tickets also include:
"Prom Court" Preferred Seating
Homecoming Crowning
17-year olds have probably rented out all the tuxedos and emptied the dress racks already, so dress to have fun. We're adults now and we wear what we want, but in order to be named Prom King or Queen you must dress to impress.
Must be 21 and older to attend the event is BYOB (ice and chasers included in ticket purchase)
GRAB YOUR TICKETS TODAY at http://promforacause.com/!
The proceeds from this event will raise funds for several programs including:
1) Ashbury Sprouts, a community garden located located in the Glenville neighborhood, that aims to provide fresh vegetables to all who help develop and maintain their garden space.
2) Recess Cleveland aims to increase public participation, stimulate emotional growth, and promote physical activity by throwing pop up recess events in areas lacking positive environments for recreation.
The proceeds will go to support Ashbury Sprouts community programming this summer (including movie nights, potlucks, bbqs, etc), and help Recess Cleveland replace and/or repair equipment damaged during their "FUN"raising events.
Interested in becoming a sponsor? Contact [email protected]
GRAB YOUR TICKETS TODAY at http://promforacause.com/!