Similar to meal prep kits (e.g. HomeChef, Blue Apron, etc), our RecessKit "activity buckets" feature a 5-gallon bucket filled with play items, aka the ingredients, and rules, aka the recipes, to 20 games you can set up and play with the contents of the RecessKit. RecessKits help teachers and parents provide a quality physically-distanced recess experience to youth. Our RecessKits are filled with play items and game instructions for hours of unstructured play fun. Each RecessKit includes:
6 – Disc Cones
1 – Long Jump Ropes
1 – Crayola Crayons (16 ct)
1 – Colored Pencils (10 ct)
1 – Sidewalk Chalk
1 – Bubbles with Wands, 3-ct. Packs
2 – Colorful Fun Kites
2 – "Decorate your own" Frisbees
6 – Coloring Books
1 – Washable Markers, 10-ct. Packs
2 – Small Bouncy Balls
1 – 10″ Yellow Playground Ball
1 – Mesh Laundry Bag (to store balls after they are reinflated)
6 – Ball Pit Balls
2 – 8.5′ PlayGround Balls
14 – Ping Pong Balls
1 – 5 Gallon Bucket
1 – Football (High-Quality Rubber)
1 – Pad of Construction, Sketch, and White Paper (90 Sheets total)
1 – Air Pump
10 – Ballons
8 – Sets of Stickers
1 – Set of Throw Down Bases
1 – Recess Cleveland Game Manual
Thanks to the generous support of The Cleveland Foundation, Neighborhood Connections, City of Cleveland, John Carroll University, Verizon Foundation, and friends of Recess Cleveland we were able to create and distribute over 200 buckets as of October 2020. Each bucket contains 65 play items which mean we've distributed over 13,000 play items directly to youth and their families this summer alone. The games manual features instructions for playing the following games:
Solo Games: Giant Bubble Station, Disc Golf, Jump Rope, Kite Flying, Create a game
Group Games: Dodgeball, Doctor Dodgeball, Reverse Dodgeball, Kickball, Capture the Flag, Four Square
Duo Games: 1-Legged Tug-of-War, Fowling (Football meets Bowling), 2-Square
Ping Pong Games: Battle Pong, Tank Wars
Chalk Games: Hopscotch, Target Practice, Shuffle Board
and an invitation to participate in a Recess Cleveland's Online Challenges.
Please see highlights of our assembly, distribution, and photos from the game manual below:
Frequently Asked Questions
Can I buy a RecessKit?
RecessKits are FREE and were constructed with grant funding from The Cleveland Foundation, Neighborhood Connections, City of Cleveland, John Carroll University, Verizon Foundation, and friends of Recess Cleveland. In order to keep costs down, we purchased the items in bulk and used our nonprofit status to save on taxes and shipping. Unfortunately, they are not for sale, but we will be holding social media contests to distribute the remaining buckets. Follow us on Facebook and Instagram for more information about the future giveaways.
Is it too late to donate to this program
No, but to maximize savings on the production of the RecessKits, we only build them in quantities of 50 at a cost of around $70 per bucket. Once funding needs are met, we will create and distribute our next batch.
How long do they take to create?
We use several vendors to fill the RecessKits with play items, so shipping rates and times vary. On average, it takes 2 weeks to assemble 50 buckets and longer if items are out of stock.
This is a great idea. Where can I find more information?
How else can I support this program?
Click the programming tab below, find this program, then click Donate or use the Donate button in the top right of the page.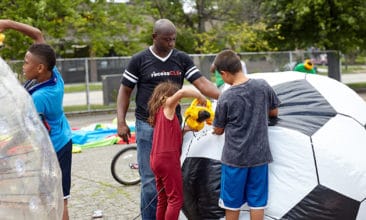 Looking for a fun activites you can play during our current global pandemic?
READ MORE
RAISED

$10
GOAL

$10,000